PET FRIENDLY Cabin 2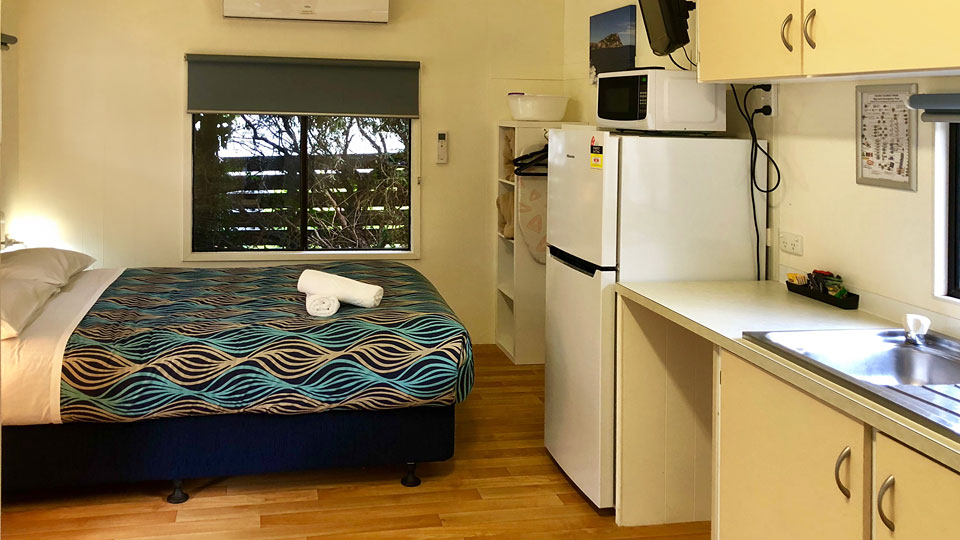 >
PET FRIENDLY Standard 3 Berth Ensuite Cabin - Occupants: 3 (Pets NOT permitted during January, Easter, Melbourne Cup WE, Labour Day WE. A $20 fee per pet will apply)
Features:
1 Double bed
1 Single bed
Large fridge
TV
Air conditioning
Heating
Toilet & shower
Covered verandah & outdoor table
Fully self contained kitchen
2 Electric hotplates
Small grill & oven
Microwave oven
Bedding, linen and towels supplied to main bed only.
This may be hired for other beds.
PET FRIENDLY however charges apply.
Pet Friendly Cabin 3
>
PET FRIENDLY Standard 4 Berth Ensuite Cabin - Occupants: 4 (Pets NOT permitted during January, Easter, Melbourne Cup WE, Labour Day WE. A $20 fee per pet will apply)
Features:
1 Double bed
2 Single beds
Enclosed covered verandah with gate
Outdoor table
Large fridge
TV
Air conditioning
Heating
Toilet & shower
Covered verandah
Fully self contained kitchen
2 Electric hotplates
Small grill & oven
Microwave oven
Bedding, linen and towels supplied to main bed only.
This may be hired for other beds.
PET FRIENDLY however charges apply
Cabin 7
>
Standard 2 Berth Ensuite Cabin - Occupants: 2
Features:
1 Double bed
Bar fridge
TV
Air conditioning
Heating
Seperate bathroom
Toilet & shower
Covered verandah
Fully self contained kitchen
2 Electric hotplates
Small grill & oven
Microwave oven
Bedding, linen and towels supplied to main bed only.
NO PETS